Someone Else's Problem are a young band from Stourbridge in the West Midlands, UK. Click here for the story so far ...
They formed about 3 years ago, and have already given several live performances including fundraising gigs for Children in Need and a gig for BBC Music Live in Stourbridge Town Centre.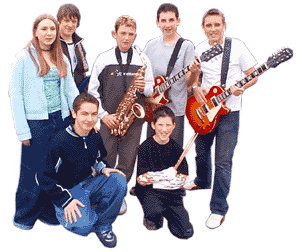 SEP have also appeared live on BBC TV Midlands on Children in Need 2000 night - 17 November - when they presented their cheque for £1144 to Darren from Big Brother!

The band, who are all aged between 11 and 16 years, have been interviewed on-air for BBC Radio WM by Daz Hale where they performed an impromptu acapella version of one of their songs. The band are already 'old hands' of radio interviews, having been on BBC Radio WM twice before!
SEP began their musical career by doing cover versions of songs such as 'Zombie' by the Cranberries, and 'Flyaway' by Lenny Kravitz, but have recently been concentrating their efforts on writing and performing their own material.
There are now 7 (formerly 6) musicians in the band and they are very eager to play. The line up of the band is vocals, 2 guitars, sax, keys, drums and bass - To find out more about the band members, . They have some gigs lined up - go to the for more info.